Wyndham produce the bulk of the squad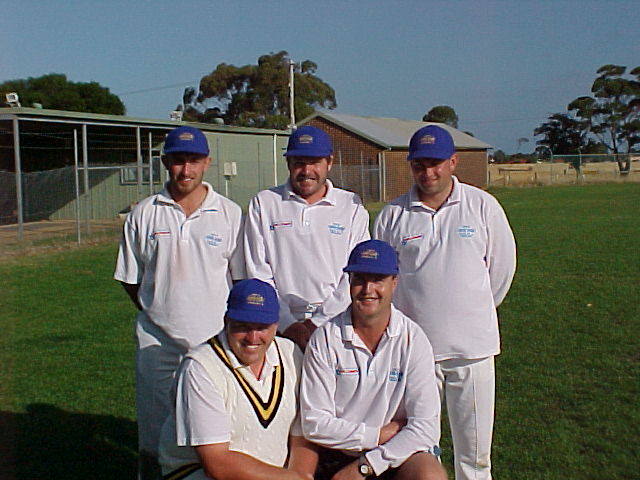 BACK: Trevor Bennett, Andrew Caithness, Matthew Bennett
FRONT: Scott Miles, Mark Robinson

After a great start to the season in Premier Grade, the Wyndham Cricket Club provided the bulk of the squad for the WSUCCA Representative team. The five players from Wyndham that were selected in the squad were Scott Miles, Mark Robinson, Andrew Caithness, Matthew Bennett and Trevor Bennett. This is a great reward for the hard work that the club and in particular these players have done since preseason training began, back in August of 2000. All of the players selected were in great form before Christmas and their selection in the squad was well justified. Not only on form, but also on talent.

Although some jealous types from opposing clubs felt the need to ridicule the selection of not only Wyndham players but almost every player picked in the squad, it is pleasing to report that the WSUCCA team performed very well and were extremely competitive.

For the individual/s who felt the need to mock the selections, may I say "Put Up or Shut Up". Not only did you not have the guts to put your name to the circulated document, but you also showed the literature skills of an infant. Some men are men of conviction others are men of wisdom, but there are some who do nothing more than suck up valuable air that others need. To the air thief/thieves who wrote this, it is individual/s such as yourself that provide the motivation for others to crush you....don't ever forget that !

The Committee are very proud to have had five players selected and it is great to report that all players performed well at one stage or another throughout the carnival.

But, in particular the committee wish to acknowledge the performance of Mark Robinson. His consistency throughout the carnival was unmatched and his efforts were rewarded with his selection in the All Australian Team. This is a tremendous honour and an outstanding achievement, considering the talent that was on show throughout the carnival. Well done Mark, a great player and a great bloke.

Lastly the Committee wish to offer congratulations to all of the players selected in the carnival squad and also to the executive for handling the massive task of organising such a big event. Well done to all involved.

Now, if we can just find the illegitimate son who wrote that letter......