The 2001 Club Presentation Night was held on Friday 27th of April at the Tigers Clubhouse in Hoppers Crossing and appears to have been a roaring success.

All in attendance had a fantastic evening and the Karaoke format, whilst slow early turned out to be a real eye opener. The closet singers in the club were out in force.

The solo efforts of star performers Paul Cambasis, Joe Polzella, Carmine Conte and his wife were definately the highlight of the evening, in the singing stakes.

There were other notable performances on the night but in particular we need to make mention of the efforts from the boys who were attending the cricket trip. These boys joined together to sing a stirring rendition of 500 Miles, which had all and sundry screaming for more or was that less ?

However the evening was about presenting trophies to the award winners and to acknowledge the contributions of our sponsors and to the women who assisted us greatly throughout the past season.

To any newcomers to our club the evening may well have been seen as a Mark Robinson benefit evening, with Mark managing to take out many of the clubs major awards. Among his achievements Mark took home the coveted Ken Haining Medal, which is the clubs highest award.

Other notable award winners were Bryan Bennett and Daniel Jenkins.

The committee would like to congratulate all award winners. We wish to also formally thank all of our sponsors for their contributions and make a special mention of the efforts put in by the women at the club.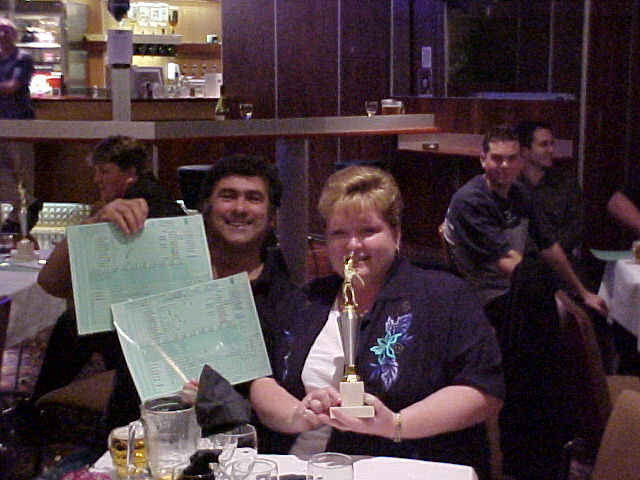 Ian & Jean Bennett proudly display
Trevor and Matt's awards.
2000/01 Award Winners
Ken Haining Medal
Mark Robinson 98.65 points
PREMIER GRADE

Champion Player
Mark Robinson 115.5 points

Batting Aggregate/Average
Mark Robinson 610 runs @ 50.83

Bowling Aggregate
Scott Miles & Trevor Bennett 31 Wickets

Bowling Average
Trevor Bennett 31 Wickets @ 10.58

Captains Award
Jamie Davies

B GRADE

Champion Player
Bryan Bennett 41.45 points

Batting Aggregate/Average
Daniel Jenkins 185 runs @ 20.55

Bowling Average/Aggregate
Bryan Bennett 24 wickets @ 23.54

Captains Award
Aiden Cerlenizza

Best Clubman
Jamie Davies

Coaches Award
Joe Vella

Encouragement Award
Daniel Jenkins

Double Wicket Champions
John Conte / Richard Conte

MILESTONES

200 Games
Mark Robinson

150 Games
Alex Grioli

Most Runs In a Season (Premier Grade)
Mark Robinson 610